The Ohio River froze solid in those winters. Before CC!

https://www.wcpo.com/news/our-community ... t-snowiest
https://www.youtube.com/watch?v=3rXnNJhnfeo
https://www.youtube.com/watch?v=MhB08uOx6AE
---
Looks like the WPC has moved the moderate area over a bit to cover a larger part of our viewing area, but still have the highest totals north and west of us so I'm kinda confused by this.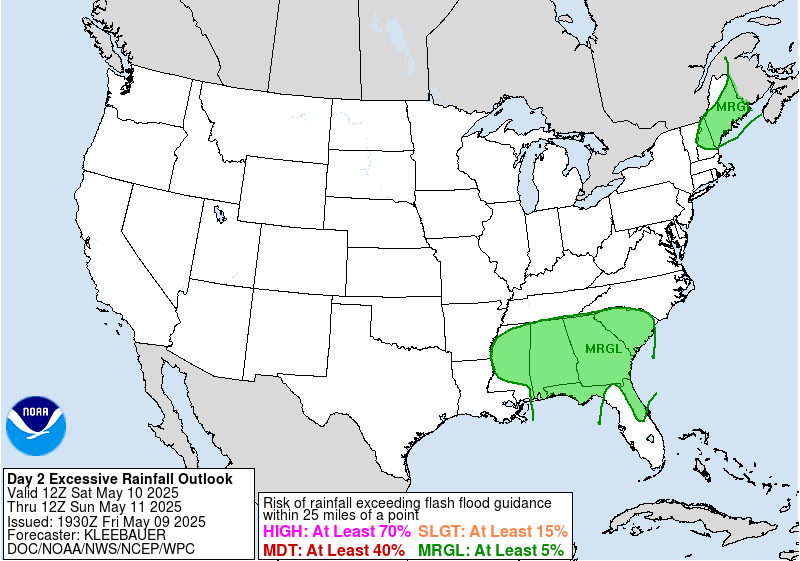 ---
Global Moderator

Posts: 2062
Joined: Thu Feb 04, 2010 8:18 am
Location: League City, Tx
Contact:
The SPC has a marginal risk area for severe thunderstorms for portions of SE and S TX tomorrow. In addition, Flash Flood Watches have been issued for a large portion of S, Central, and E TX. Flash Flood Watches will likely be issued for all of the SE TX. Time to be weather aware Friday night into Saturday morning.

From this morning's Houston-Galveston Area Forecast Discussion:

Friday night - Saturday morning...

Moisture levels are forecast to "peak" Friday night with PWs from 1.7 to 1.9 inches (inland, around 2" at and off the coast). These above normal PWATs combined with favorable split jet dynamics...a very strong low-level inflow and the slow moving surface boundary are all keeping conditions favorable for heavy rains over much of the region. Wile instabilities will be limited, the possible development of a coastal low (moving up from the lower TX coast) and be a factor when considering severe thunderstorm chances...especially for our coastal counties overnight Fri/early Sat morning.

Will be messaging event rainfall totals as 3-6 inches on average, with isolated amounts of 8 to 10 inches possible.
---
Hopefully this verifies with most of the rain gone by 9am Saturday.
---
Global Moderator

Posts: 2062
Joined: Thu Feb 04, 2010 8:18 am
Location: League City, Tx
Contact:
...FLASH FLOOD WATCH IN EFFECT FROM FRIDAY AFTERNOON THROUGH
SATURDAY MORNING...

The National Weather Service in Houston/Galveston has issued a

* Flash Flood Watch for portions of south central Texas and
southeast Texas...including the following counties...in south
central Texas...Coastal Jackson and Inland Jackson. In
southeast Texas...Austin...Brazoria Islands...Brazos...
Burleson...Chambers...Coastal Brazoria...Coastal Galveston...
Coastal Harris...Coastal Matagorda...Colorado...Fort Bend...
Galveston Island and Bolivar Peninsula...Grimes...Houston...
Inland Brazoria...Inland Galveston...Inland Harris...Inland
Matagorda...Madison...Matagorda Islands...Montgomery...
Northern Liberty...Polk...San Jacinto...Southern Liberty...
Trinity...Walker...Waller...Washington and Wharton.

* From Friday afternoon through Saturday morning

* A cold front and potent upper level system are forecast to move
across the area and produce locally heavy rainfall Friday
afternoon into Saturday morning. Rainfall amounts of 3 to 6
inches are expected over most of the area but isolated spots
could see as much as 8 to 10 inches. Rainfall should be coming
to an end early Saturday morning from the west and clear the
coast by Saturday afternoon.

* This episode of heavy rainfall could result in isolated flash
flooding along area roadways, underpasses and low lying areas as
well as small creeks and tributaries.

PRECAUTIONARY/PREPAREDNESS ACTIONS...

Be especially cautious at night when it is harder to recognize
the dangers of floods and flash floods. If flash flooding is
observed...act quickly. Move up to escape flood waters. Do not
stay in areas subject to flooding when water begins rising.

A Flash Flood Watch means that conditions may develop that lead
to flash flooding. Flash flooding is a very dangerous situation.

You should monitor later forecasts and be prepared to take action
should Flash Flood Warnings be issued.
---
Site Admin

Posts: 18677
Joined: Tue Feb 02, 2010 2:32 pm
Location: NW Houston FM 1960/SH 6
Contact:
I wanted to offer a quick update regarding the longer range potential forecast as we near Christmas and New Year. There are is a lot of activity going on in the upper levels of the atmosphere that appear to be indicating a cold and unsettled pattern across the Southern and Eastern United States as January nears. A Modoki El Nino, or Central Pacific based El Nino pattern where winds blow from the West as well as the East causes rising air in the Central Pacific allowing thunderstorm development along the dateline near Hawaii and Guam. Cooler sea surface temperature are developing near South America and the Eastern Pacific and the Philippines in the Western Pacific. those anomalies suggest the Modoki El Nino has developed.

Another upper level indicator Is a well modeled Stratospheric Warming Event that has started. It typically takes a week or so to fully see the impacts of such phenomena and likely will impact Siberia/Eurasia first with extremely cold air as the Polar Vortex looks to break down. The current long range guidance indicates temperatures across those Regions may drop to minus 50 degrees Celsius near Christmas. The pattern over North America may become very conducive for delivering some of that colder air rather far South as a Western Ridge develops and a potential cross Polar flow organizes. With the disruption of the Polar Vortex, the upper level pattern looks to become very chaotic, so expect a lot of volatility in the guidance regarding those longer range charts. For the Winter Weather lover, the sort of pattern that could develop, may bring lots of potential for a bout or two of wintry mischief as well as unsettled weather well into January and possibly February...or primetime winter weather month.
Carla/Alicia/Jerry(In The Eye)/Michelle/Charley/Ivan/Dennis/Katrina/Rita/Wilma/Humberto/Ike/Harvey

Member: National Weather Association
Facebook.com/Weather Infinity
Twitter @WeatherInfinity
---
Site Admin

Posts: 18677
Joined: Tue Feb 02, 2010 2:32 pm
Location: NW Houston FM 1960/SH 6
Contact:
Thursday morning Weather Briefing from Jeff:

Powerful storm system will bring high impact weather to TX starting later today

Flash Flood Watch has been issued from noon Friday until noon Saturday for all SE TX counties

Flash Flooding of streets along with significant rises on area bayous, creeks, and rivers to flood levels is possible.

Powerful upper level storm system moving into S CA and NW MX this morning will track generally eastward and into TX over the next 48 hours. SW flow aloft is already spreading clouds across the area with currently best moisture return focused across SC/C TX where scattered showers have already developed. Activity will increase today from the coastal bend northward along the I-35 corridor where favorable moisture transport overlaps with short wave energy aloft. Some of this activity will likely affect our far western and southwestern counties this later this morning into the afternoon hours.

Friday-Saturday:

Excessive rainfall event likely Friday afternoon-Saturday morning resulting in flooding.

A surface cold front currently moving southward is now expected to reach our NW counties around College Station early Friday and then slowly move across SE TX during the day. This front will act as a strong lifting feature to promote widespread showers and thunderstorms within a very favorably moist air mass. In fact models continue to suggest near record/record moisture levels will be in place by Friday afternoon with PWS of 1.8-2.0 inches over much of the area. Forecast soundings show little instability, but loaded with plentiful moisture form the surface into the upper levels indicating convection will be very effective at heavy rainfall production. Unfortunately it appears the slow moving surface front will be nearing the US 59 corridor around the time that maximum parameters for heavy rainfall focus over SE TX. This includes a very strong 45-55kt low level jet which will transport copious moisture into the frontals slope. Additionally, winds aloft become increasing divergent helping to aid lift and vent near surface lift. Add in a slow moving surface boundary and a nearly "tropical air mass" and you pretty much have everything needed for excessive rainfall rates.

Rainfall Amounts:

Widespread rainfall amounts of 3-6 inches appear likely over nearly all of the area with isolated totals of 8-10 inches. It is still somewhat uncertain where those higher isolated totals may occur, but areas along and NW of US 59 may have a slightly greater risk than areas S of US 59. Much of the higher totals will tend to focus closely with the surface front and where it slows at times as it crosses the region. In addition to the overall totals, high hourly rainfall rates of 2-3 inches per hour will be possible which will lead to rapid urban flooding of street systems.

Hydro:

Forecasted rainfall amounts and the widespread nature of the rainfall pattern strongly support significant rises on area watersheds. Think most basins can handle 6 hour totals of 3-4 inches, but anything greater than about 4 inches in 6 hours is going to likely be cause for concern. Creek, bayou, and river flooding will be possible especially in the San Jacinto, Trinity, and Brazos basins. For Harris County, all of the creeks and bayous will likely see significant rises and exceeding of flood stage levels is possible on some of the watersheds depending on exactly where the heaviest rains fall. Greatest concern at the moment is for the watersheds over the northern half of Harris County, but think all watersheds have about equal chances of seeing significant rises and possible flooding. Usual common flooding locations on Little Cypress Creek and lower South Mayde Creek will likely experience flooding. Some structure flooding will be possible if watersheds exceed their banks or intense rainfall rates overwhelm street systems.

Decision Support

Timing: Friday morning College Station area, mid to late afternoon Houston area through Saturday morning
Amounts: 3-6 inches widespread isolated 8-10 inches
Watersheds: flooding of creeks, bayous, and rivers is possible
Street Flooding: high threat for street flooding
Severe: a few storms late Friday night may become severe near the coast with a tornado threat.

Forecasted Rainfall Amounts: Friday-Saturday Excessive Rainfall Outlook: [/i]
Carla/Alicia/Jerry(In The Eye)/Michelle/Charley/Ivan/Dennis/Katrina/Rita/Wilma/Humberto/Ike/Harvey

Member: National Weather Association
Facebook.com/Weather Infinity
Twitter @WeatherInfinity
---
The atmosphere literally can't get more juiced than this. This is the GFS modeled sounding for 6pm tomorrow. A
fully
saturated profile.

---
Rain is moving in quickly.
---
12z GFS and 12z CMC have both shifted the axis of heaviest rain closer to the 59 corridor which would put more of the metro area in risk of flash flooding.
---